Our Adsversus Solution for you, Advertisers
►  We link your Google Merchant Center to our Comparison Shopping Service platform.
►  We create a new Google Ads account and manage CSS shopping campaigns settings.
►  Thanks to your feed, we publish your products on our CSS.
►  Your ads appear in Google Shopping search results.
►  From now on the mention "By Google" will be replaced "By Adsversus".
►  Your new account is credited with 20% of your investments. Discount on CPC allocated to certified Google Partners CSS such as Adsversus.
►  Improve your shopping performance while increasing your voice share.
►  By using a different CSS than Google Shopping, you also benefit from up to 30% retro-commission on your expenses per 30-day period for a 32k credit limit.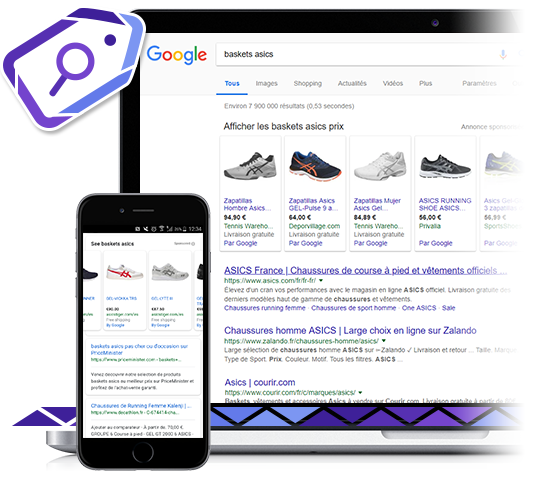 We use the same feed as Google shopping, which we put on Adsversus. Your CSS campaigns are perfectly diffused thanks to the daily automatic flow of your product characteristics, stock …
Creation of CSS Shopping campaigns in a Google Ads account.
Campaign management and optimization with the use of machine learning algorithms to guarantee the best performance.
Clear and dynamic reporting of your CSS campaigns.
Find out in seconds how much you can save if your Shopping campaigns were switched to CSS by Adsversus.